The Great Decal Hunt
I have a mom-mobile. It's cute and awesome and I love it, but lately I've been feeling like it's missing something. Ever since I got it, which was shortly after my son was born (because you can't have a mom-mobile without first being a mom, obvs), I've been hunting for a sweet decal for the back window. I've literally spent MINUTES on Etsy. Finally I found one.
At first, I came across several that we're pretty cool. Here's the thing, I'm not interested in regular stick figure people. I just need something with a little more, I dunno, Star Wars or something. Here's what I found: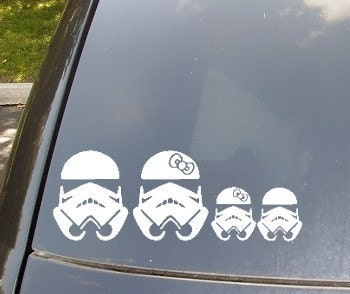 I love that the only boy/girl difference is a bow. She also has a Darth Vader set and Lego family that are the same idea. In fact, her Yoshi set was on my short list. For serious, how cute is that?
It was at this point that I realized I should broaden my geeky-decal (geekal?) horizons. Are you ready for what I found? Because it's prob the most awesome thing you'll see all day.
Unless you saw a double rainbow*. No? Okay, then this. Best ever. Mom-mobile: complete. Harry Potter is muh fave, y'all. There are all sorts of other decals, so hit the link to check 'em out. I also got a "Nimbus 2000" for my broom.
After I ordered this, guess what came in the mail? My awesome huz ordered me an early birthday present:
Technically I think it was just a regular birthday present, but he gave it to me early since I was already decal-ing. Seriously, Harry Potter and Star Wars represented on the mom-mobile? I think I just fainted. The Star Wars decals come with so many that we put some on his car too: Darth Vader, Leia, and a small Stormtrooper. We still have a ton, so maybe I should randomly stick them on other cars. ;)
*See the double rainbow? At the top sort of? This was totally in my backyard. Maybe I should buy a lottery ticket. And can we talk about how bright that one rainbow is?