I mustache you a question.
Today I'm guest posting at The Mustache Diaries. Read it? Please?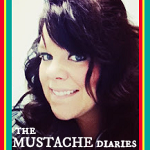 If you're here from Marcy's blog, thanks for visiting! I hope you like my shit, and if you do you can follow me on ALL THE SOCIAL MEDIA!
I also send out get-up-off-yo-ass daily emails using my wit and charm colorful language. Email me at meg(at)nerkyblog(dot)com if you'd like to be added to the list!